Otto the cat and his brother, Ty, were born without a home. His mother, affectionately named "Mama Cat", gave birth to two kittens next to a storage shed in the parking lot of our facility. By the time the kittens were discovered they were several weeks old.
The Gateway staff loved sneaking peaks at the kittens, but getting near them was virtually impossible with Mama Cat fearlessly protecting her litter. Taking care not to disturb the kittens for fear that Mama Cat might abandon them, Gateway staff put out food and water for Mama and built her a temporary shelter as protection from the weather. They then began devising a plan to catch Mama and her kittens.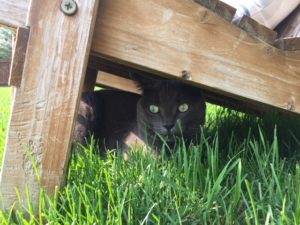 Before the plan to catch Mama and her kittens was sprung, one of the kittens was seriously injured after crawling into an engine cavity of a parked car. He fled from beneath the car into the shop and hid. No one could find him.
The following day was Saturday and the shop quiet. Except for Darryl and a few others, no one was around. Out came the kitten. Taking care to not scare him, Darryl coaxed the kitten with food to come to him and when near enough Darryl was able to throw a cloth over the kitten and place him in a pet carrier.
Allowing itself to be captured is in itself remarkable because having been born in the wild the kitten had already learned to be wary and distrustful of humans from Mama Cat. Yet the injured kitten did none of this. It is as though his instincts guided him to seek help and trust that aid would follow.
During the car ride to the local veterinarian the kitten was quiet and calm. He kept looking over at the driver and through his eyes appeared to be communicating a plea for help. Once out of the pet carrier at the veterinarian's office, the kitten's wild nature came through and he spat and hissed at the Vet. It took 3 people to catch and hold him down for the Vet to examine him.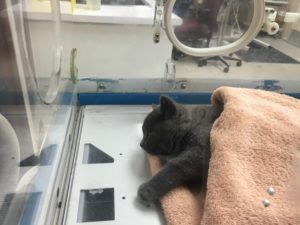 The prognosis was grim and without surgery the kitten would not survive. Gateway Auto Body agreed to cover the cost of surgery and post-surgical care. All things considered, the kitten came though surgery well. His tail was amputated, and he received stitches on this back to close the wounds. Within a few days he was off to live in the home of a Gateway employee, and was named "Otto" for Gateway Auto Body.
Taming a wild and injured kitten requires patience and total commitment, generally taking several weeks. However, because Otto was not just wild but injured, he needed more time for recovery and bonding. Eventually after several months of being cared for in a small quiet room complete with regular meals, CBC Radio commentary and a soft bed, Otto ventured out of his comfort zone and began to explore his surroundings and its occupants. Today Otto has grown into a beautiful cat and is affectionate and loving. He enjoys playing with the family dogs, cat toys and hunting rodents in his new environment.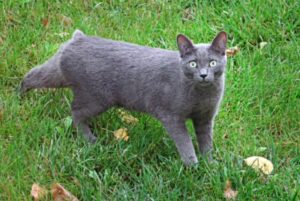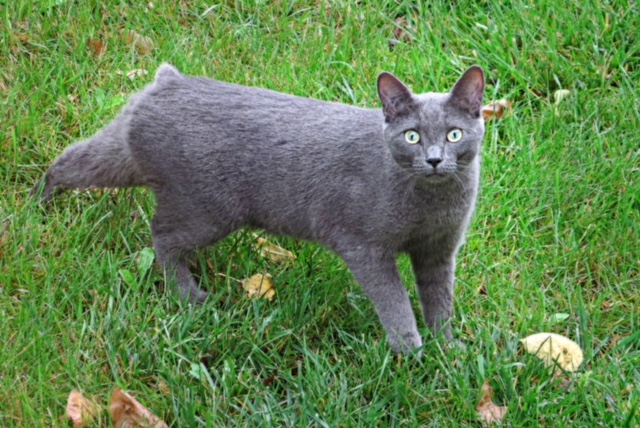 Otto's brother, Ty, was also adopted by a Gateway Auto Body employee and loves his new caregivers. Mama Cat was eventually captured and taken to Craig Street Cats, a feral management and kitten rescue, for spaying and socialization. She has been returned to Gateway Auto Body, which is now her permanent home. "Papa Cat" comes to visit sometimes staying a while before returning to his home somewhere in the neighbourhood.
Through our love for pets and nature, Gateway Auto Body supports local animal rescues and shelters through fundraising initiatives and donations. Please join us in helping support the work of Funds for Pets and Craig Street Cats